Here we have the search data for September from Experian Hitwise showing that Google accounted for 71.08% of all U.S. searches. Bing, Yahoo and Ask.com accounted for,  8.96%, 16.38%  and 2.56% respectively.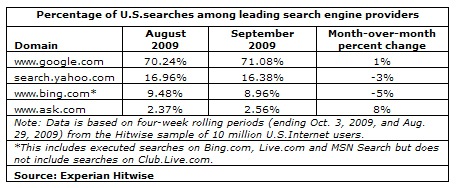 The search data was culled from all searches conducted for four weeks in September ending Oct. 3, 2009.
Google's search data increased by 1% from August 2009, while both Bing and Yahoo suffered a decrease of -5% and -3% percent.
Interestingly, Ask.com's share of  U.S. searches is a big 8% leap from its August share. And this might continue to increase especially with the Ask Deals service which Ask.com blended with its search engine.
Another interesting thing to note is the fact that despite the decrease in their search shares, combining Bing and Yahoo's data still falls a little less than 50% of Google searches. The declining trend will certainly not help Bing and Yahoo to reach Google's level. In addition, Bing's data include searches made on Bing.com, Live.com and MSN Search but excluding those searches made on Club.Live.com.
Check out the SEO Tools guide at Search Engine Journal.
Google Adsense Account Banned? See here for how to get a Google Approved Adsense account with your name and address.. See this website for more details. http://googleadsenseaccount.wordpress.com/
---
If you enjoyed this post, make sure you subscribe to my  RSS Feeds !!
If you enjoyed this post, make sure you subscribe to my E-NewsLetter !!
Also follow me at twitter to know what I am doing.
Posted By: KirubaKaran

Microsoft Certified Technology Specialist